AL-KO Enduro™ – A New Standard in Independent Trailing Arm Suspension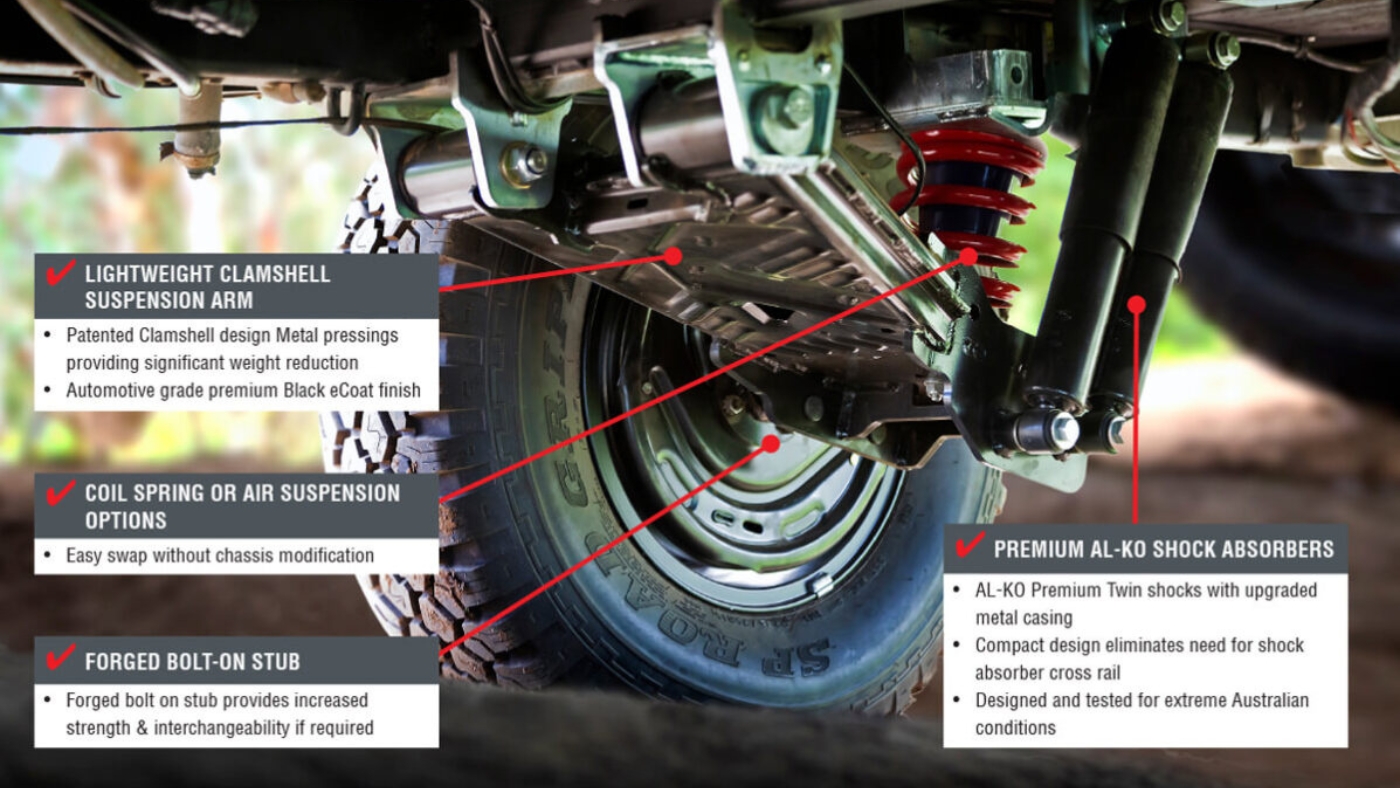 Designed and engineered in Australia using the highest quality heavy duty components, the AL-KO Enduro™ range provides caravanners with the freedom to conquer challenging all terrains, while delivering comfort and handling when needed most.
AL-KO, the world leaders in caravan chassis & component technology, is pleased to announce the release of the AL-KO Enduro™ suspension range – a new standard in independent trailing arm suspension for Australian caravans and camper trailers.
"I think everyone acknowledges that Australian roads are rougher than the rest of the world and we certainly travel longer distances" said AL-KO Technical & Manufacturing Manager, Rob Funder.
"So, we've taken up the challenge and focused on producing the world's best independent trailing arm coil spring suspension that is suitable for the Australian outback and rougher roads, with the level of quality & engineering that the market expects AL-KO product to be able to stand up to. There is already a number of trailing arm suspension products on the market, however AL-KO has taken it to the next level."
A key feature of the product is the integration of premium AL-KO shock absorbers.
"The AL-KO shock absorber is an elite performance product" said Funder. "Our Australian engineering team took this further and developed a version specifically for the rugged Australian conditions, where vehicles are often heavily loaded, fitted with accessories and driven on harsh outback roads for extended periods. "Results show little to no bush deformation or wear, significantly less dampening degeneration, superior heat dissipation and a failure point 40 degrees higher than that of competitor products tested."
Other features include Australian made 4×4 coil springs, maintenance free bushes and integrated tow and camber adjustment.
Extending the AL-KO philosophy of 'Quality for Life' to Enduro™, the AL-KO engineering team conducted an extreme off-road testing program at the Anglesea Automotive Research Centre prior to release.
Each component was pushed to the limit before being accepted. The system was also tested to integrate seamlessly with modern caravan features such as AL-KO Electronic Stability Control (ESC), another AL-KO world breakthrough.
AL-KO Managing Director Sven Mannfolk is encouraged by the initial market feedback for the product.
"This is an important product for AL-KO in Australia – there is a clear trend towards the Australian caravanner asking for independent trailing arm suspension and they have been waiting for a quality solution from AL-KO" said Mannfolk.
Our end goal with the Enduro™ range really is to provide a better level of comfort and a better experience for caravanners travelling in challenging conditions. The name ENDURO indicates that we're building something that's tough, reliable, that will last."
AL-KO Enduro™ is now available to caravan manufacturers, who can now make AL-KO Enduro standard or an option on their vehicle ranges in both single and tandem.
As a Willow RV owner, you can experience the true towing freedom of the AL-KO Enduro™ on our Outback, Cross Country and Touring vans! Why not get in touch with your closest Willow RV dealership today and discover the AL-KO/Willow difference for yourself.